Top Healthcare App Development Trends That Will Dominate in 2023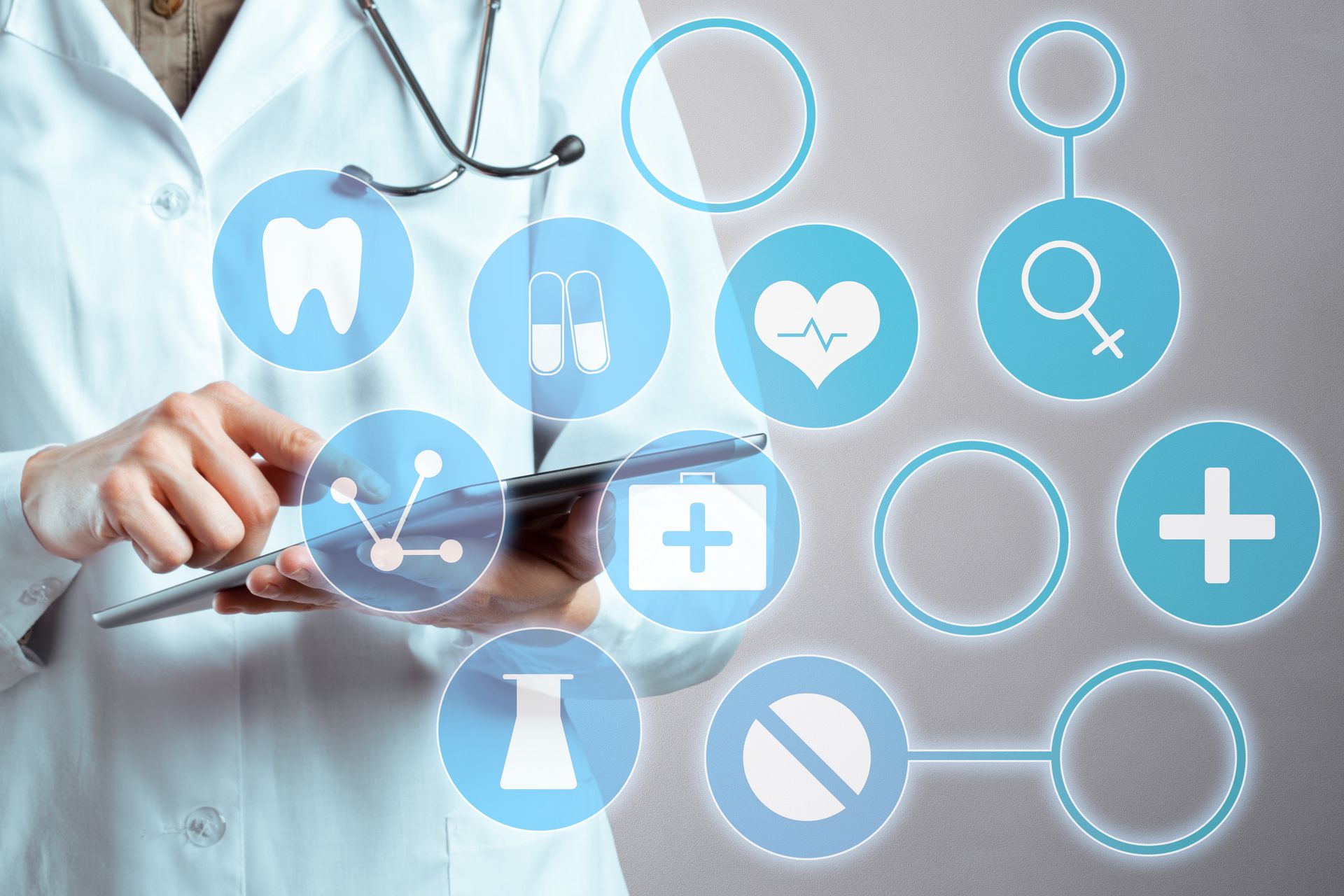 Ever since the adoption of Smartphones and further mobile application have flooded the market, global industries are on their way to offering their services through the adoption of mobile app development trends. Then why should the healthcare industry stay behind?One of the prominent and visible growth has been in the healthcare industry, which has gone many miles ahead of where it stood a decade ago. All thanks to taking a step ahead in Healthcare app development, paving patients' roadmap towards the gateway to easy access to healthcare prepositions.However, that can't be done with just a snap of a finger.

However, that can't be done with just a snap of a finger. You, as a healthcare organization entering into the mHealth service market, must follow healthcare app development trends, which we have discussed over here, to lead your app concept to success.
In addition, to know healthcare app development trends, the market study is the need of the hour!!
Healthcare App Development Market Analysis
According to a report, there are 350,000 mHealth applications hosted across different app stores. In addition, around 54,546 healthcare and medical apps are available on the Google Play Store, and 41,517 healthcare and medical apps are available on the Apple App Store, states Statista.
The report further states that all the 350,000 mHealth applications are divided into categories, including medical, fitness, and health apps. One is also aware that the market of the healthcare industry will continue to excel in the forthcoming years.
Here's the reference for it: The mHealth market size was valued at USD 63.88 billion in 2022 and is expected to reach
USD 243.57 billion by 2030
at a CAGR of 18.2% in the timeline of 2022-2030.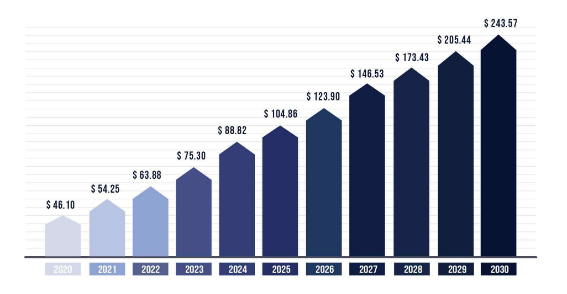 Indeed, health apps have played a significant role in motivating people to live healthier and more active lives. According to Statista's most recent report, 86.3 million users rely heavily on Health or Fitness apps to promote a healthy lifestyle.
However, the peak of the COVID-19 pandemic had a significant impact on the healthcare industry, resulting in the rapid adoption of Healthcare software development solutions.
COVID-19 Impact on Healthcare IT Development Investment

According to an Accenture survey conducted in 2021, approximately 1800 US citizens (representing 26% of total survey participants) have expressed support for improved access to healthcare services in the aftermath of the pandemic.

The telemedicine application market in the United States is expected to reach USD 25.88 billion by 2027 , at a CAGR of 15.8%.

By 2021, approximately 78% of office-based physicians and 96% of hospitals will have implemented licensed EHR to ensure better critical patient record-keeping with easy access.

With the adoption of the telemedicine app, approximately 32% of patients consulted doctors in 2021, up from about 7% in 2020. See the image below for a positive increase in healthcare app solutions across the globe.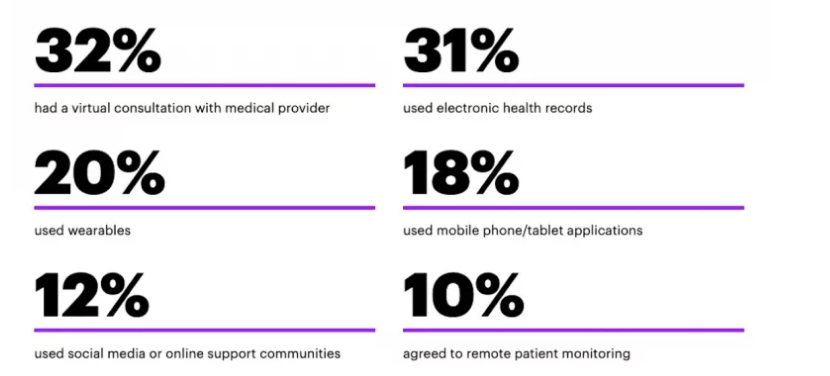 Top Healthcare App Development Trends to Rule in 2023
Now, if these encouraging statistics have already inspired you and you are actually planning to develop a healthcare app, you must not only focus on implementing the latest features but also follow the trends to gain the top spot in the market.
1. The Use of Blockchain Technology in Healthcare Industry
Perhaps we've heard of Blockchain technology before and are aware of its close relationship with cryptocurrency, specifically bitcoin. However, the use and implementation of this advanced technology in the healthcare sector is something to be curious about.
One of the key roles that Blockchain technology will play here is in recording and preserving patient data using the highest level of data encryption. It is thought to be a difficult task that will become easier with its implementation.
In fact, one of the main reasons why most health apps failed to retain customers was that they did not provide a secure environment to protect data.
2. The Artificial Intelligence Vogue Will Prevail in Healthcare
Artificial intelligence is a modern technology that has put many sectors, including the healthcare industry, in the driver's seat.

As the healthcare technology landscape evolves, AI is expected to rock the industry with proposals for pharmaceutical and biotechnology startups, natural language processing, robotics process automation, and clinical trial participant identifiers between 2022 and 2028.

Artificial intelligence can help doctors examine patients more accurately, which is a huge help when immediate medical treatment is required.

Advanced AI solutions will enable computer systems to make decisions on their own even when medical personnel are unavailable.

Patients will not be required to visit clinics and hospitals on a regular basis, which will undoubtedly reduce medical bills.

Artificial Intelligence (AI) will also help to reduce the number of human errors. Yes, even doctors can make mistakes when diagnosing a patient or administering treatment.

AI will make complex and potentially life-threatening surgeries easier and will aid in patient recovery.

Robotics Process Automation (RPA) is an AI solution that can help to streamline healthcare body processes such as health payments, early diagnostics, patient data analytics, data entry, and so on.

AI-powered chatbots for gathering initial health-related data and analysing symptoms in order to schedule an appointment with a doctor.
Not just that, even top tech giants, including Microsoft, IBM, AWS, and many others, are providing AI/ML-powered healthcare IT solutions.
AI has a lot to offer to the healthcare industry, which we have explained in our latest blog
AI in Healthcare
.


3. The Telemedicine Services Will Get a Huge Boost
There is no doubt that telemedicine has brought about a significant revolution in the healthcare industry. Telemedicine is a valuable asset in remote areas where medical facilities are not easily accessible, and it is also cost-effective.
The telemedicine app incorporates the concept of consulting doctors/physicians/psychologists/lactation consultants, on-demand online consultation slot booking, video conferencing-based consultation, e-prescription generation, and a variety of other features.
SingleCare received data from patients using telemedicine solutions for the following applications in their 2021 telehealth survey
69% for the illness/infection-related consultation

66% for the follow-up consultation with doctors

49% for the psychological therapy sessions

44% for the chronic condition health assessment management
"The global telehealth market size was valued at USD 83.5 billion in 2022 and is expected to increase at a CAGR of 24% during the forecast period of 2023-2030," states the GrandViewResearch report.
Indeed, patients are becoming more and more aware of telemedicine, and even medical practitioners are of the view that it offers fast and better outcomes in treatment.
In fact, more people are getting satisfied by using the services as it has brought a significant reduction in the number of hospital readmissions.
4. Incorporating the Internet of Things in Healthcare
The Internet of Things (IoT), or virtually connected internet technology, is having an impact on a variety of industries. Similarly, the healthcare industry is moving towards the adoption of IoT solutions.
According to a GlobalNewsWire report, global adoption of IoT solutions in the healthcare industry is expected to exceed USD 253.7 billion by 2026, at a CAGR of 20.5%.
Health apps linked to IoT will be responsible for comprehensive healthcare and patient comfort. Furthermore, it will be useful in gaining access to valuable patient information and monitoring his progress - a solution known as Remote Patient Monitoring (RPM). This solution is extremely useful, especially when dealing with chronic disease conditions and receiving remote treatment.
Post-COVID-19, the adoption of RPM solutions has received a peak. And the market size is projected to hit USD 175.2 billion by 2027 , which was last evaluated at USD 53.6 billion in 2022, states Forrester.
The Internet of Things can be simply connected with some highly advanced devices and medical equipment to carry out better operations during the treatment process. In addition, it will provide much more accurate and refined report insights.
The top IoT healthcare solutions that are expected to be adopted include ECG Monitoring, Body Vitals monitoring, Rehabilitation Systems, etc.
5. Wearable-Generated Patient Health Data Gets A Touch of Personalization
Nowadays, basic healthcare and fitness tracking apps take regular data updates from your activities through connected wearables to prepare your personalized dashboards and healthcare/fitness diet and workout plans. The way popular fitness tracking apps, like Samsung Health, HealthifyMe, Google Fit, etc., offer personalized healthcare/fitness services.
Building healthcare wearables apps with data personalization enablement is definitely a good deal to invest in as post-COVID-19 pandemic, therein, massive escalation has been discovered in the spending on wearables. In 2021, total
USD 81.5 billion
were spent globally on wearables, says Gartner.
6. The Cloud-Based Technology Gaining Traction of The Healthcare Sector
If you ask any healthcare professional, one of the most daunting tasks is none of the course than storing the patient's data or documentation. However, with the advent of cloud-based solutions, many of these tasks would get simplified more than ever before.
You can store the Electronic Health Records (EHR) of the patients with 24×7 accessibility.
As per the research shared by DataDynamics Inc , around 30% of global digital records are assumed to be stored by the healthcare sector. And this contribution is projected to reach 36% by 2025, which is 6-11% faster than the manufacturing, finance, and media & entertainment industries.
As 80% of healthcare data is unstructured, it needs specific computation, allocation, storage, and management needs, which can only be fulfilled effectively by cloud computing solutions.
Not only the hospital administration but also the health insurance companies are also reaping benefits from cloud-based technologies. They can store vital data regarding the healthcare premium and policy numbers of each of the patients; and that too, securely.
So, with confidence, we can say that around 83% of the healthcare industry data, structured and unstructured, is being stored in cloud platforms for better availability, accessibility, and management, along with security assurances.
7. Big Data Analytics in Healthcare
It has maintained its popularity across industries, including the healthcare sector, since the advent of big data analytics. With the rapid generation of data across the industry, implementing and integrating big data analytics solutions in your healthcare app becomes a must.
To be more specific, this useful asset can be divided into three major categories.
To begin, it is associated with Resource Management. Big data has greatly aided in the management of the hospital's sources, such as keeping a record of the hospital staff, medical professionals, doctors, nurses, and so on. It also provides valuable information on which patients require emergency care and how staff should assist them. It is useful to know how many beds are available so that patients who need to be admitted do not have to wait too long.

Electronic Health Records have been a boon to mobile health apps because they allow patients to store their health records digitally. It would include information such as their weight, height, medical history, medications they are taking, blood and sugar levels, and so on. So, the next time you go to the doctor, you can avoid telling him about your medical history. The EHR can manage almost anything: medications, patient history, doctor prescriptions, and so on.

Predictive Analytics is a combination of Big Data and EHRs. It is a document containing massive data that provides an accurate prediction of what treatment would be most appropriate for the patient based on the diagnosis of the health problem. It would also give you an estimate of how long the patient will need to recover, and so on.
Moreover, the AlliedMarketResearch forecasts the global big data analytics adoption in the healthcare market to be expected to reach
USD 67.82 Billion
by 2025. It further states that the top big data applications adopted in the healthcare industry includes clinical analytical, financial analytical, and operational analytical solutions, of which "clinical analytics" is considered to be the most lucrative solution.


8. Augmented Reality: The Future of Healthcare IT Solutions


We've talked about how Artificial Intelligence (AI) and Blockchain technology are changing the healthcare industry. And now is the time to bring Augmented Reality into the spotlight and examine its impact on the healthcare industry.
The AR has been a fantastic addition because it improves training. It also improves the doctors' knowledge and skills when diagnosing patients.
It will provide training to more people in a shorter period of time, and medical practitioners will be able to understand the information in order to improve their skills.
As per one survey, the adoption of AR/VR solutions in the healthcare industry is projected to reach USD 19.6 billion by 2030 .
Furthermore, revolutionary Augmented Reality applications in medicine and healthcare include:




Apps that show nearby access to defibrillators or AEDs for quick, primary diagnosis; the AED4EU app is an excellent example.

Google Glasses can assist mothers who are having difficulty breastfeeding.

Symptoms examination using an AR app, particularly in ophthalmology;

Vein Identifying AR solutions;

Pharmaceutical drug application information, allowing patients to see how the drug works in 3D;

AR apps assisting surgeons in the operating room - AR-based X-Ray Vision App concept, for example, in locating a liver tumour;

The Hololens device aids in the study of human body anatomy.


9. Mental Health Apps
As per WHO's survey, 1 in a group of 8 people in the world lives with any one or more sorts of mental disorder, such as thinking, emotions, regulation, depression, stress, anxiety, behavior, sleep, etc. And during the COVID-19 situation, the rates for anxiety and depressive disorders have increased by 26% and 28%, respectively.
However, there are ways to deal with such mental disorders, either by taking therapy sessions from psychiatrists or adopting apps with mindful activities.
As per the Precedence Research, the mental health app market size is expected to reach the height of USD 19.6 billion by 2030 with a CAGR of 18.06% during the forecast period of 2022-2030.
There are other mental health exercise-based apps that can help users to heal from basic mental disorders like stress by playing mindful games. This concept can also help them increase their IQ level and improve cognitive decision taking abilities.
Moreover, a mood tracking app development concept is also becoming popular among people concerned with their mental health.
10. Medication Tracker & Reminder Apps On A Roll
This medication reminder and tracking app concept is gaining traction among patients among the many healthcare app development concepts. This app concept allows patients to enter information about their pills and daily doses, as well as set a timer to receive reminders. As a result, they can take their medications on time.
Aside from that, some apps have integrations with third-party pharmacies, allowing refills of their medications to be ordered manually or even automatically when they run out of stock if the medication course is lengthy.
According to one study, many patients who take medications, particularly Alzheimer's patients, frequently forget to take their pills, which can have serious consequences on their health. One survey conducted in the US region in 2017 states that more than 65-70% of adults forget to keep a track of their medication.
Moreover, the global medication tracker market size is expected to grow at a CAGR of 11.2% during the forecast period 2022-2030, which was last valued at USD 2.3 billion in 2021.
11. Women Wellness Apps Imposing Necessary Care
As per one survey, 50% of global healthcare app users' customers are women and are likely to utilize healthcare apps more than 75%. Then why not, their specific segment-based app? Seeing that, the FemTech market is expected to grow to USD 50 billion by 2025.
Modern women require modern solutions for their healthcare and wellness. The app could include features such as a personalized dietary plan, exercise, meditation, cycle tracking along with the ovulation period, and many others for women to use when they are going through a critical period such as the menstruation cycle, pregnancy period, and post-labor period. As a result, developing such women's wellness apps could have a positive impact on society.
Clue, Flo, and Natural Cycles are popular women's wellness apps, with 500K+ to 100M+ downloads in the Google Play Store and Apple App Store.
12. Gamification In The Healthcare Apps Energizing The Patients' Excitement
Healthcare apps offering wellness services can be integrated with gamification solutions, which maintain users' attention and motivate them to spend more time on the app.
Gamification in healthcare apps can be integrated using game psychology in non-gaming content, which motivates patients to log their daily activities. It could provide rewards for logging into the app when adding health logs, etc.
The Healthcare Gamification Market size was evaluated at USD 10 billion in 2022 and is expected to grow at a 10.5% of CAGR during the forecast period of 2023-2032.
For designing gamification in the health app, you need to plan it in the following way:
Plan clear goals for keeping users engaging and continuing their app use

Visualization for embracing user motivation

Reward strategy

Push notifications with marketing copies to motivate users to open the app
Popular healthcare apps with gamification design, including MyFitnessPal, PACT, Mango Health, etc., are getting the attention of users and their dedication toward using the app on a regular basis due to gamification elements.
13. Introduction to Metaverse in Healthcare Apps
By introducing the Health 4.0 landscape, Metaverse plays an important role in healthcare for both patients and doctors. It takes advantage of the potential of emerging technologies as well as web 3.0 technologies, such as AI, AR, VR, and 5G networks, to provide affordable medical treatments.
As per the Market Research Future (MRFR) report, the metaverse in healthcare is expected to hit the edge of USD 5,373 Million by 2030 at a CAGR of 48.3%.
Analyzing the metaverse's compatibility with the healthcare sector, it can be used to improve the performance of areas such as clinical care, wellness, collaborative working, education, and monetization.
Digbi Health, XRHealth, NeuroTrainer, and other popular examples of the metaverse in healthcare solutions are transforming healthcare operations and unlocking bright future opportunities.
14. The Pressing Need For the Cybersecurity
In this technology world, many healthcare organizations are relying on software solutions to store digital data for lifetime accessibility. The use of software systems in the healthcare paradigm includes – EHR systems, e-prescribing systems, pathology records, radiology information, etc. However, with this ease, organizations also have to maintain integrity and confidentiality along with availability.
As per the analysis circulated by HIPAA Journal, around 20.2 million healthcare records were compromised in the 1H, 2022 period in the US region only.
Hence, healthcare organizations leveraging software systems for storing records have the pressing need for a secured facility – an implementation of the highly-encrypted cybersecurity package. And that too, by strictly following the HIPAA regulations to avoid becoming a victim of those cybersecurity incidents and paying fines ranging from $100 to $50,000 or more.
Conclusion
We have been witnessing the progress of the healthcare sector toward the digital landscape and enabling advanced medical treatments for patients while ensuring cost-effectiveness. However, with this advancement, the sector mustn't forget about being compliant with HIPAA regulation standards for all-time cybersecurity.
The mobile apps following these healthcare app development trends will become smarter, resulting in better business opportunities along with promoting human health and welfare.
And when it comes to staying with trends, coping with the intense market competition, enabling better digital healthcare experience, and that too, with innovations, Twilight It Solution is your companion in catering to your ever-evolving healthcare software needs.
Send us your requirements
today and get enlightened with the best-in-class solution that can boost your healthcare operations.
On Healthcare App Development FAQS
How To Optimize My Healthcare App to Generate Better Business Opportunities?
Well, for that, you have to first hire a top-notch healthcare app development and marketing company that can not only help you with app development, maintenance, and support but also optimize its presence in the app store with App Store Optimization (ASO) best practices and further app marketing strategies.

What makes a healthcare app successful?
The mHealth app market comprises a wide gamut of applications offering numerous services. So, to lead your healthcare app to success, you must define a clear application for it to cater to your target audience to adopt, build an app by following trends, circulating frequent technology and feature updates, ensuring all-time availability with cloud enablement and cybersecurity, running amazing marketing campaigns, and much more.