Top 20 Mobile App Development Trends to Watch Out in 2023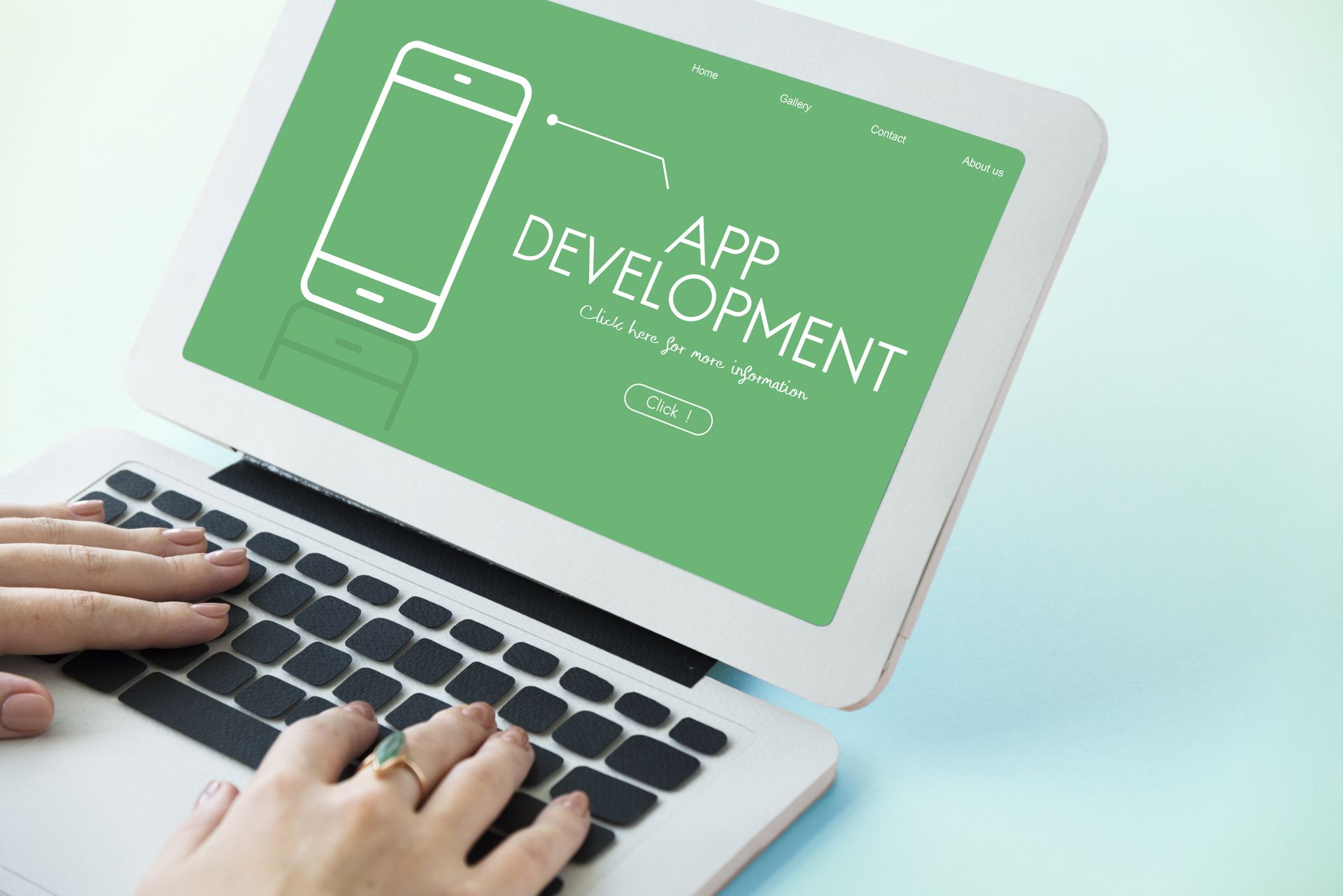 With the development of smartphone technology, things have improved beyond any reasonable expectations. Smartphones have very quickly become our vital possessions. Numerous other technologies have also replaced cellphones as necessities in our daily lives. You also cannot overlook the fact that the development of mobile apps has raised revenue. Globally, 7.49 billion mobile users are anticipated by 2025. The market for mobile apps is constantly changing. You must make the necessary changes to the procedure in order to satisfy the never-ending client needs. As a result, using the best app development tactics alone won't guarantee your success. The most recent mobile app trends are all that are required. Additionally, you need a group of seasoned app developers if you want to achieve the most success.
The following is a list of the most important mobile app development trends for 2023:
1. Machine Learning and Artificial Intelligence
The phenomenon of artificial intelligence is already well-known. The market for artificial intelligence is expected to reach $190 billion by the year 2025. More industries are now attempting to integrate human intelligence with technology.
The manufacturing and medical industries have already made incredible strides toward increasing efficiency using artificial intelligence. The ability to capture real-time events with great precision and capacity has made this viable.
Artificial intelligence and machine learning are effectively combined in critical processes like mobile app development. It can learn the process of app building from prior data, recognise problems, and solve them in real-time whether it is developing iOS or Android apps.
Additionally, it can pick up on all user behaviors and actions through their routine usage and take the necessary steps without following any rules.
You may complete chores without tapping your fingers thanks to the IoT and AI. While you unwind, AI will be controlling your appliances, homes, cars, etc.
Some future AI trends are the following:
Predicting user behaviors
Integration of AI with IoT
AI-enabled face unlock
AIOps for automating IT functions
Smart camera with subject identification
Adaptive battery for more battery lifespan
High app reliability for cyber security
Language and voice translations
2. Predictive Analytics
Predictive analytics makes future event predictions by measuring the present data. It uses strategies from modeling, statistics, artificial intelligence, machine learning, and data mining.
Tech biggies like Facebook, Google, and Apple have already improved user journeys across the UX/UI by AI integration for using predictive analytics.
Big Data analytics for the healthcare industry is expected to reach $79.23 billion by 2028. Currently, there are over 44 zettabytes of data in the entire digital universe. 70% of the world's data is user-generated. Cloud computing end-user spending totals around $500 billion yearly.
The flows of more computing strength, more storage, and more data fuel its prominence further. And it will be one of the most sought-after mobile app development trends to follow.
3.
UI UX is the prime focus
A simplistic design approach is highly in demand over the last couple of years. As the dramatic progress of the mobile app development industry has been witnessed; the vitality of UI and UX has also been twigged.
Mobile app design is quite a lot about a minimalistic approach for the users to get the hang of navigation easily and content can help users perceive the niche of the app. If we refer to popular applications like Google Pay, Amazon, Microsoft Teams, and many others.
So, UI/UX is the most important element for the audience of late; 2023 is about simplistic UI and effective UX.
4. Camera-focused applications are rocking in 2023
After the detrimental situation that COVID brought with itself, humans continued to work and we should be proud of ourselves for that. The concept of digitization was adopted and it is still relevant as many organizations find it easy to work with this pattern.
Moreover, the concept of virtual working/work from home that arose during the pandemic is now widely accepted. Thus, many camera-focused apps like Zoom and Google Meet have launched for employees to make their lives easier.
In 2023, more camera-focused applications are bound to be seen, like you would have noticed that gradually every social media app has been updated with video calling features by now.
5. 5G technology
As time passes by, technology also progresses alongside. 5G technology is one of those when we mention innovative technology. With a 5G network, the data is delivered with great speed and efficiency.
However, 5G technology has been in existence for a while, but in 2023, it is going to be a buzzword as it is estimated that businesses are going to adopt it actively at full scale.
What makes 5G different from 4G?- A few points:
Speed is the key difference; 5G technology's speed is 10 times faster than the 4G network.
5G will provide a lot more opportunities for AR and VR. Integrating AR and VR into an app is not a big deal with 5G.
Data transfer between the devices will be a lot more rapid and smooth.
Virtual payments are going to be pretty secure, safe, and seamless as the process of biometric data for identification is going to be conducted quickly due to the 5G network.
6. Super apps will be majorly created in 2023
Well, super apps are the term some of us might have heard of earlier as well. But to make it clear, it's an ecosystem of applications that people use frequently due to its seamless integration.
Well, Gartner says: A super app is an application that helps its end users (customers, partners, or employees) with a set of core features along with access to independently created mini-apps.The trend of super applications in the year 2023 is bound to rock as it expedites the process due to its seamless integration. And users love and appreciate the technology that offers them end-to-end convenience.
7. Mobile commerce
By the year 2024, the mobile commerce sector will represent 42.9% of eCommerce sales . As the concept of digitization has been promoted and how after the pandemic, we all have started relying more on mobile applications.
Moreover, we also cannot disagree with the fact that the concept of online shopping has started taking over the businesses of the offline market; online shopping is found convenient for the users.
Looking at the scenario of mobile commerce, it's safe to say that this trend is going to be with us forever.
Since payments with online shopping are quite easy, popular eCommerce platforms like Amazon have seen a massive rise in their sales. Customers find it quite feasible to shop through digital wallets as they don't have to mention the details every time they shop, once it's done, it's done.
8. Voice search
Every technology is meant to offer convenience in its own way, but certain technologies just make users addicted. And voice search is one of them. So, it is not a surprise that the market of voice search is projected to rise to
$27.16 U.S. by 2026
.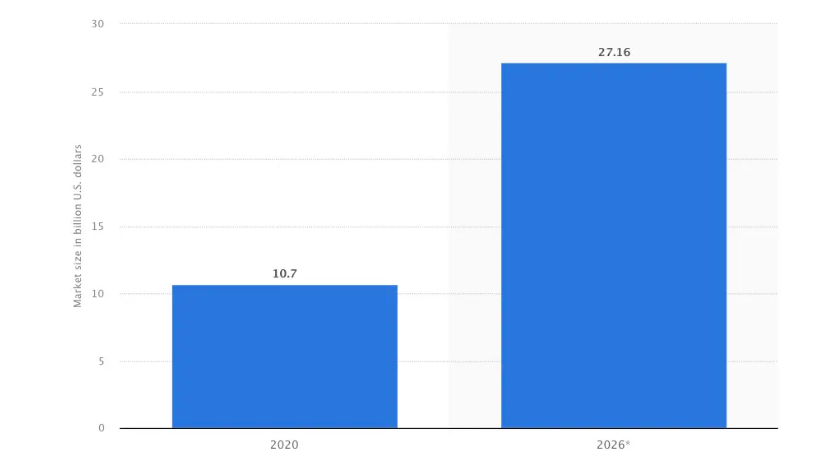 Having seen the importance of voice search in the market over the last few years, businesses from different industries have been actively working on integrating the same in their apps to offer a desirable user experience.
9. Mobile applications for wearable devices
Wearable devices have been a part of advanced and modern technologies for quite a long time. People love wearing smartwatches and fitness bands for managing some of their stuff that used to be done on cell phones earlier.
Looking at the tendency of people to use wearable devices, this mobile app development trend is still here in the year 2023.
After the launch of Apple's smartwatch, the brand witnessed skyrocketing sales of the product as if this was something users were eagerly waiting for. Many brands came up with awesome wearable devices seeing the mammoth success of Apple's smartwatch.
So, the market of wearable devices is expanding and how, and it is still probably going to be prevalent in the coming years.
10. Gamification
Users are consistently looking for interesting features in the applications; seeing the gigantic engagement of the game PUBG: one thing is for sure, games are a major part of users' life.
The in-game advertising market is projected to grow at a CAGR of 7.08% during the forecast period to reach US$221.511 billion by 2027.
Apart from this, there are many mobile applications like Duolingo that have certain gamification features integrated:
Choice of difficulty
Beginner, Intermediate, or Expert. You can choose the level of playing the game as per your expertise and knowledge about the topic.
Battles
Users need to pass small tests before moving further to the next level. This makes users feel a sense of accomplishment.
Victory badges
After successfully completing the level, users are given victory badges, which boosts users' confidence to the next level.
11. Motion design is key
Even though the features of your applications are on point, sometimes users just do not live to engage with apps because of the standard UI designs. In such cases, motion graphic designs come into play.
Adding motion design adds life and enhances the UI design to a great extent. You can understand the visual hierarchy of the elements and add the desired motion effect as per the importance of the element.
Motion design entails users with highly boosted engagement. Experts say you can almost double the value of design just by smartly adding effective motion into the same and making the standard design look nothing less than an artistic piece.
12. Touchless UI
Touchless UI is quite a smart concept, users find it quite impressive as it has taken a level of convenience one level up.
Well, many of us might not be familiar with the concept of touchless UI, let's clear it out. Touchless UI is something that captures your gesture for authentication and allows you to access the app. To put it simply, unlike earlier standard biometrics systems, touchless UI identifies the users through their faces.
According to Gartner, more than 50% of all major business apps will have at least one touchless experience by 2023.
This concept proved to be pretty useful during the period of the COVID-19 pandemic as this concept is very hygienic and smart as we mentioned earlier. So, the trend of touchless UI is intact in 2023 and in the coming years as well.
13. Cross-platform app development
Cross-platform app development is the type of process wherein you can create an app using a single codebase that can work on multiple operating systems like Android and iOS.
As cross-platform app development is quite feasible and cost-effective if compared with native app development. Many startups do use it for their MVP launch and simple app development. This lets them save a lot of time, effort, and, of course, money.
14. Internet of Things
Have you ever thought that the internet would be so necessary in our lives? If you think that the internet cannot control everything in our lives, you should just opt for the Internet of Things.
Suppose you are outside and you just forgot to lock your home. Rather than going back to your house, you can lock your home from the location where you are currently. You just require installing an IoT app on your smartphone, an IoT powered lock system and an active internet connection.
So, not just your house or workspace, but in the future, you can control nearly everything with the use of IoT systems.
IoT items like August smart lock, August doorbell cam, Philips lighting system, and Amazon dash button have already won millions' hearts.
Many companies are already making a transition to IoT app development. According to Statista, forecasts suggest that by 2030 around
29.42 billion
of IoT connected devices will be in use worldwide.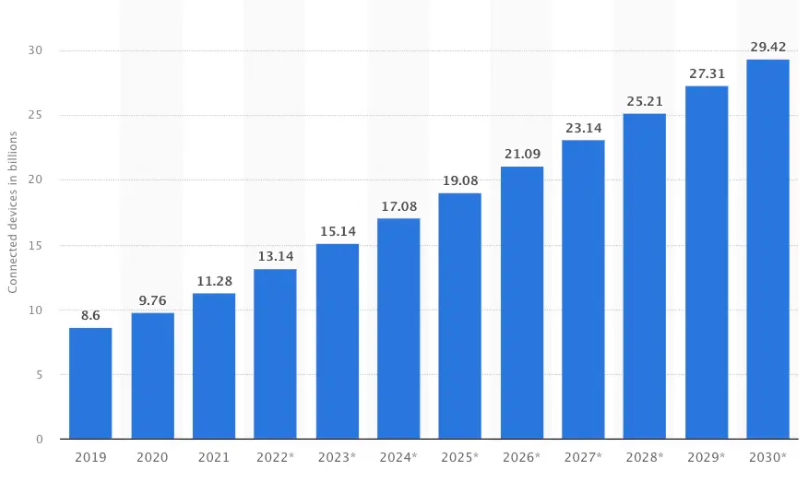 Some expected IoT trends are the following:
IoT in healthcare

AI-enabled IoT devices

Self-driving and smart automobiles

Smart homes and cities
15. Applications for Foldable Devices
The very first foldable smartphone was launched by Samsung in the US back in 2019. After that, unsurprisingly brands launched foldable devices seeing the kind of attention the Samsung Galaxy was getting.
Having seen the surge of engagement, foldable devices are getting impeccable appreciation. Customized apps for foldable devices are a major demand and a great opportunity for the developers and businesses out there.
As the factor of responsiveness in applications has been considered on a prior note, businesses are optimizing their apps for foldable devices already. So, this is one of the powerful mobile app development trends of 2023.
16. Extended reality
Extended reality (XR) is a versatile term inclusive to immersive learning technologies virtual reality (VR), augmented reality (AR), and mixed reality (MR). Virtual Reality-VR training develops a simulated learning environment through which learners can perform realistic interactions with objects and people.
Besides that, Augmented and Virtual Reality are already found quite useful as the revamped marketing strategy for businesses. This makes it quite feasible for new product owners to present and improve their services using XR for utmost attention, user engagement, and conversion.
According to Statista's forecast, the market for extended reality might generate up to $52 billion in revenue by 2027.
17. P2P mobile apps
These days, all online transactions are taking place at a high scale; we barely see a traditional transaction taking place as each day P2P applications are becoming safer, personalized, easy to use, and reliable.
So, their market is bound to expand more in the future.
18. On-demand Apps
Things will become more interesting as the app world is going to launch more on-demand apps in 2023. Let's accept that yesterday's luxury is today's demand. And there are innumerable on-demand apps now.
Smartphones have become a major requirement since they meet all our demands fast through mobile apps. You just need to place a request in the specific app and you will get the service in your preferred area.
On-demand apps have different categories like food delivery apps, taxi apps, grocery delivery apps, and so forth. Presently there are biggies like Taxify and Uber that have acquired lots of popularity due to the on-demand apps.
On-demand apps are easy to use for users. Furthermore, According to research, about 86.5 million Americans are widely using on-demand services, whereas around 45 million Americans are offering on-demand services.
Now nearly every organization has moved its focus to on-demand apps. And as per tech analysts, the year has just begun; 2023 will be a great year for the trend of on-demand apps.
A few future trends in on-demand apps incorporate:
Domestic helper apps

Laundry service apps

Beauty & Salon apps

Grocery & food delivery apps

Babysitting apps
19. Augmented Reality and Virtual Reality
In 2022, many mobile apps have already shifted to Virtual Reality and Augmented Reality and these apps do not only belong to the gaming or entertainment arena.
Now businesses in different sectors are also including real-world experience in apps. Henceforth, the App Store and Google Play Store are full of VR and AR apps. Pokémon Go is the best instance of an AR app.
Moreover, it has almost 5 million active users all over the world. Brands like Sephora and IKEA have included augmented reality in their applications to boost and enhance user experience and increase conversion rates.
Although VR technology is still developing, slowly it will become mainstream. Apps like Google Cardboard and Tilt Brush offer a 360 experience. There is Google's Daydream VR that just supports the latest Android smartphones like Motorola Moto Z, Samsung Galaxy Note 8, etc.
20. Cloud-integrated Mobile Apps
Cloud technology has a lot of possibilities and perks. Once it began as a hosting service and gradually developed over its initial applications. This is the most trustworthy platform to store and access your data more securely, quickly, and smoothly.
However, cloud technology hasn't entered the mobile app development process to a great extent.
Cloud-integrated apps directly run on the cloud. This is how it lights out the internal memory of your smartphone. Hence, you don't require worrying about your mobile crashing while using these apps.
Both users and app developers equally reap the benefits of cloud integration. It makes app development quicker and simpler, alongside cost savings. Moreover, users can access the apps smoothly without installing them.
Future cloud technology applications include:
Hybrid cloud solutions

Multi-cloud platforms

Cloud quantum computing
Winding Up
All the aforementioned mobile app development trends will certainly grow the app industry rapidly. The competition among mobile app developers will increase in 2023. Thereby, you should watch out for every trend before working on your app.
Every new mobile app-building innovation has some pros and cons. If you are a newbie in this industry, you might find it difficult. Nevertheless, with industry experts, you can always find out the best mobile app development trend for your app.
Now that you know how to succeed in 2023, remember to implement the above-discussed mobile app development trends while creating an app.
FAQs for Mobile App Development
What is the future of mobile app development?
According to The Statista Digital Market Outlook, revenue across most segments will go upward over the next coming years and overall will reach around 613 billion U.S. dollars by 2025. Mobile applications set new app industry trends and foster new experiences. Therefore, mobile app development can help companies achieve profits and promote their products in the digital era.
Why is mobile app development important for your business?
Mobile apps can offer businesses a maximum advantage, as they can boost their repeat business opportunities and refine referral rates. They can also boost new product and service adoption rates. Mobile apps offer convenient one and two-way communication between SMBs and their target customers.